Hello, and welcome to whatspoppinbaby.com.  Popcorn, good!!  Helping people, good!!  Here @ "What's Poppin?" we believe that it feels good to give back.  We donate a percentage of all profits to local missions and soup kitchens.  We believe that it's important to help out where you can in your own community.  We sell super yummy kettle-cooked popcorn at local farmer's markets and various concerts, street fairs, private parties and community functions.  I also have some awesome T-shirts that you can feel good about buying.  
    We are now offering "Disco Lem-O-Nade" in addition to our already scrumptious kettle-corn!  What's disco lem-o-nade you ask?  It's just like regular lemonade, except that it tastes a lot better and is way more fun!   Ask about our special "disco lemonade" for grown-ups only!!  New and delicious is one way to put it when talking about our newest flavor "Chile con Limon" (or chile-lemon/lime).  Grab a big glass of lemonade when eating this one because it's hot!!     
    We always have something new going on here at "What's Poppin?"  We have been thinking about something cool that we could do for those who already give back.  So, what we came up with was that if you donate anytime @ all at a local soup kitchen, mission, habitat for humanities, or even your church and can bring me anything in writing showing what you did for some1 else than we will give you a free "Happy Bag" the next time you come see us @ 1 of our local events!  So go my children, and do good!!
    This website is brand-spanking new, and I plan on taking lots of pictures and continuously uploading them so you keep up on all the wacky stuff we have going on.  Feel free to contact us, and let us know what you are doing to feel good and give back in your community..
Sincerely,
The "What's Poppin'?" crew
                                                                      "What's Poppin?"
                                                                    Newport Beach, CA
                                                                   Phone: (714) 916-1667 
                                                              e-mail:
whatspoppin@live.com
Me and Giada De Laurentiis munchin' on some Chile-Lime Kettle-Corn at the world famous Santa Monica Farmer's Market!!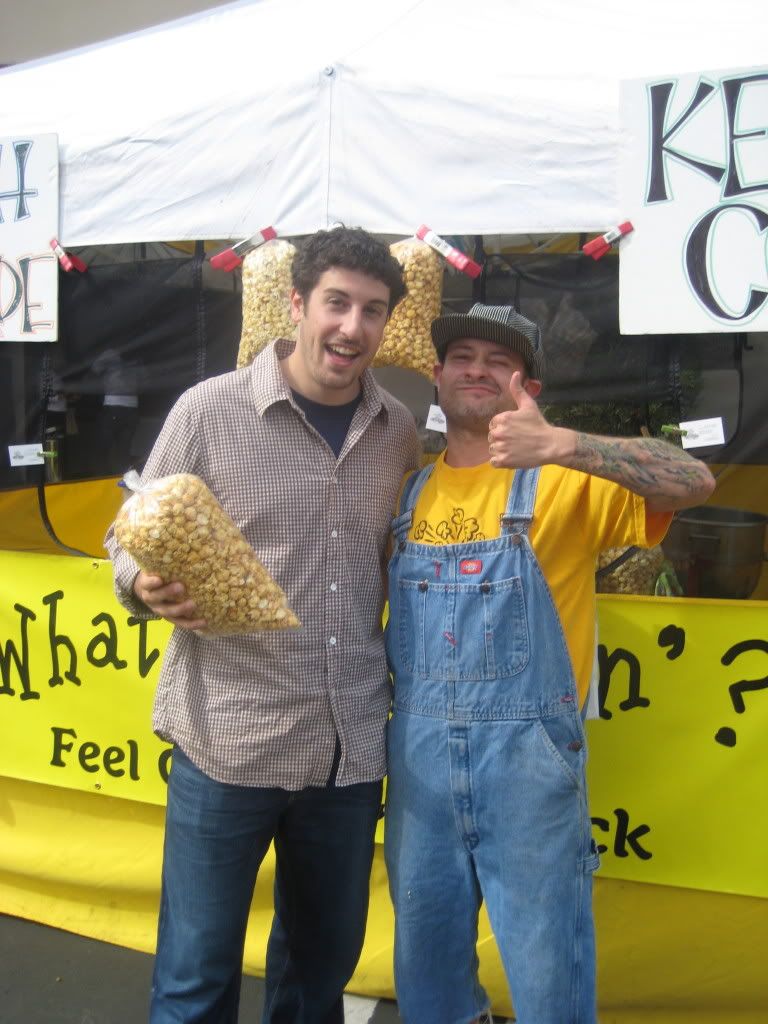 Me and Jason Biggs gettin' corney w/ the Chile-Lime!